13 Kids clothes sewing patterns
Here is the list of beautiful kids clothes sewing patterns. In the list you can find the kids' clothing patterns including free sewing patterns.
The best kids clothes sewing patterns are designed to create not only homely clothes, but are lively enough to make the process of getting dressed exciting for children.
Knowing how demanding it can be to look for kids' clothes patterns, I have shared with you my collection. Which I have organised after spending several hours researching.
Using these best kids clothes sewing patterns you can efficiently construct kids' clothes for all ages. From babies to toddlers and children.
So let's dig in!
5 Best rated Kids clothes sewing patterns
Boys Romper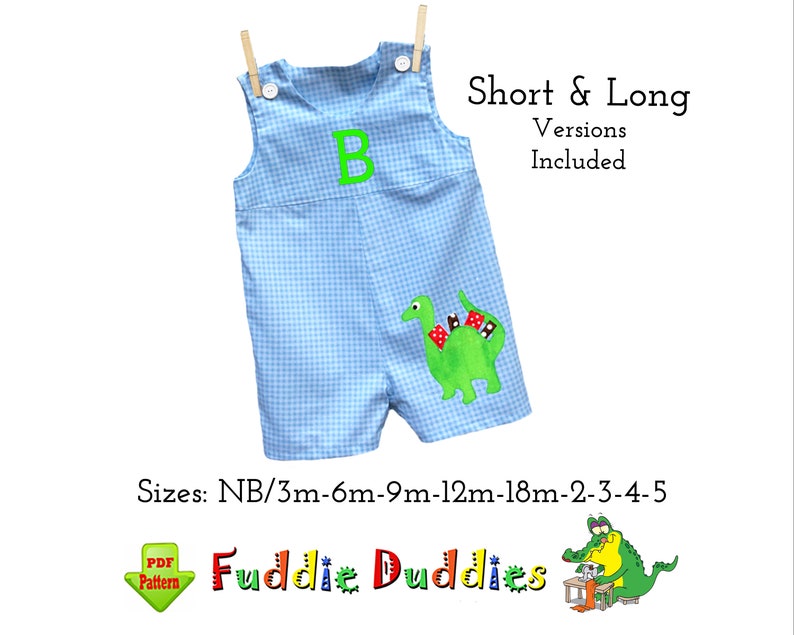 This is a smart kids boys romper sewing pattern offered with both short and long sleeves. Whereas the shape is quite loose to furnish comfort and ease. Also it does not carry mid seams.
The pattern provides freedom to choose either buttons or snaps for shoulder attachments. Not only this, the pattern is simple to make with enough options to customise for ease.
The size range for this pattern is 3months- 5 years.
Jordan Top and Dress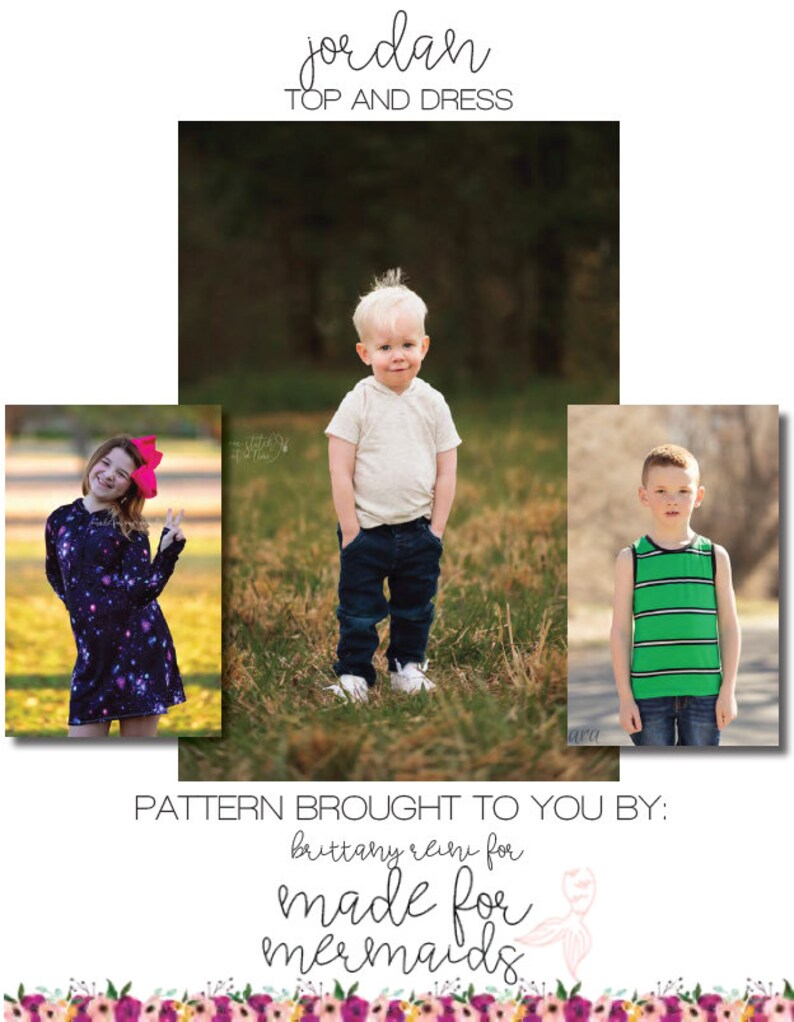 The Jordan top is basically a unisex tee pattern. It is skillfully crafted so that you can have a lot of different styles for your kids.
You can choose the dress length for girls or a top length for boys. The pattern also offers split hem top length.
Moreover, to make it suitable for every season, the pattern carries all lengths of sleeves. So that you can choose the length according to your fabric.
Also, you can opt for a suitable neck design from the available range. It is available in ½- 14 sizes.
Baby and kids shorts
This kids shorts pattern is one of the easiest clothes sewing patterns for kids. With the step by step instructions and meticulous pattern designing you will be able to sew it without any stress.
The most significant part is the waistband design. It is particularly styled to ensure comfort and safety. Elevating the chances of damaging the kid's tummy altogether.
Furthermore, the pattern is suitable for boys from 1 month- 6 years.
Girls dress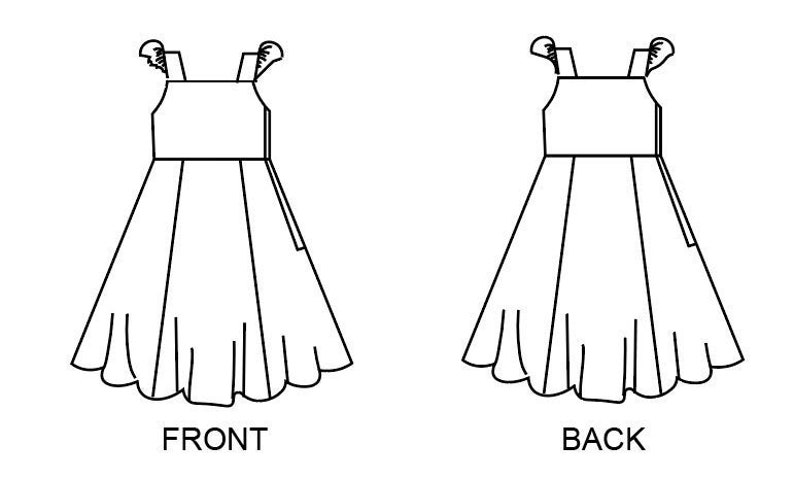 This is a cute ruffle sleeve dress pattern for girls. You can simply make the dress following the pattern in just an hour.
Since it is available in six different sizes, you can easily have the one for your girl as well. Even if she is a newborn, you can try this beautiful frock pattern.
Also, seam allowance is included in the pattern. The pattern offers sizes from 3- 8 years.
Half neck t-shirts with frill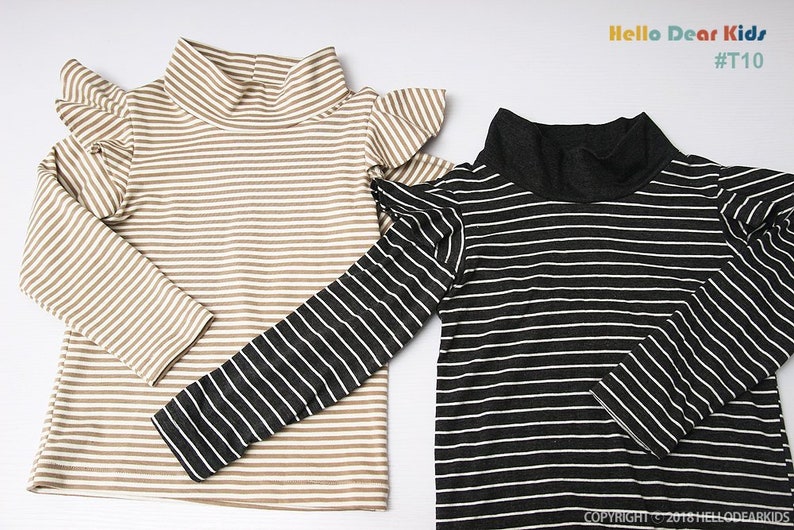 This top with frill is a funky little piece specially for girls. You can have a variety of options to try with the pattern.
Either make it a comfortable top to wear down with pajamas for night or make her a cute top to wear for outings.
All in all it is an easy to sew pattern with plenty of instructions and sizes. This pattern is available for 2- 10 years.
3 Burda style sewing patterns
Toddlers' Jumpsuits
This time attempt this toddler jumpsuit pattern to design a comfortable piece for you boy or girl.
The pattern carries both sleeve and without sleeve options. Hood is also personalized. You can choose the pattern's look with a cat face or the corners with straps.
Furthermore, the snaps are located at the legs in both the options. The pattern is suitable for 6months- 3 years.
Children's Jogger-Style Pants
This waist pants pattern is a unisex clothing piece for your kid's all moments. This is not only easy to stitch but a cool pants pattern.
Exhibiting contrasting side strips with ribbons as required. There are also leg hem bands which add enough detailing to make it similar to a store bought pair of pants.
This pattern is offered in sizes 7-14 years.
Children's Pull-on Pants
This children's pull on pants pattern is another comfortable clothing item they can put on. Since the pattern provides two different styling options, you can have what your child prefers.
The pattern is furnished for girls from 6-11 years.
2 Simplicity patterns
Children's Tucked Top
This pattern is a children's tucked top. Which are incredibly comfortable for toddler girls with its simple loose bodice top. The pattern is meticulously crafted for children's ease. The front tucks add the required detailing while the back button closure makes it easy to wear.
You can have many styling options from short sleeve to sleeveless. Then you can have straight pants with pockets or shorts.
The pattern is ideal for girls from 3-8 years.
Mother and Daughter Dresses
This mother and daughter dress is my favorite entry. In that when I was 2 years old my mom stitched a dress for both us from same fabric. Although I don't have the dress now but I do have the memory.
If you also feel that you and your daughter need to have a lovely piece to adorn together, consider this comfortable ruffle sleeves and neck dress pattern.
The pattern is available in many different sizes.
3 Free kids clothes sewing patterns
The following free kids sewing patterns are quite simple to make. Even if you are a beginner you can stitch any of these for your child.
A-line frock
This A-line frock pattern for little girls is particularly easy to stitch. It carries A shaped bodice which is fitted at the upper yoke, nonetheless a comfortable dress.
The pattern is provided for 3 months- 12 years.
Simple Gathered Dress
On this special occasion try sewing this simple gathered dress for your girl. You can follow the step by step tutorial on the dress and stitch this one.
It is a lined dress pattern having buttons or hooks for closures in the back opening.
Party Dress
For a fun evening with her friends, you can stitch this party dress for your girl. The pattern depicts a lined bodice with zip at the back.
Which is attached to a tulle skirt having the famous paper bag waistline. The most interesting part of this pattern is that you can draft the pattern for any size. Follow the instructions and you can draw it according to your requirements.
Final thoughts
The Kids clothes sewing patterns are probably the most sought after sewing patterns. They have to be particularly comfortable yet singular enough for children to feel happy about their clothes.
Keeping this in focus, I have devised this collection. All the aforementioned kids clothes sewing patterns are extremely cozy yet stylish at the same time. If you have a fur baby and intending to stitch it some clothes. You can do it as well just follow the pattern for dog clothes.