7 everlasting Free Vintage sewing patterns
The following are the free vintage sewing patterns I have found. So follow along and create wonderful vintage clothing pieces for yourself and your loved ones.
These best vintage sewing patterns are not only free but are printable and downloadable as well. Thus make them my recommended patterns.
Designing a vintage dress is not an easy job, you not only need to stitch the dress but to grab the feel and essence of the pattern is also paramount. Thus, a sewing pattern plays a vital role for sewing a vintage dress.
There are a plethora of vintage sewing patterns but not all are PDF versions. Keeping this in view I have only included the patterns which you can have on your home screen as well as on paper.
So let's pitch in!
Free vintage sewing patterns
All the patterns mentioned in the list are quite extraordinary. In that they are crafted to stand out as vintage dresses. You can try them on a variety of fabrics depending upon your personal likeness.
All the patterns are basically thorough tutorials along with detailed instructions, and images. Which provides you with enough directions to get help at each and every step during stitching.
Mary quart-style minidress
This is a wonderful vintage pattern which is a brilliant effort by V&A. You can use a variety of combinations for collars, sleeves and necklines from the offered pattern.
Additionally, there are two optional pockets designs, so you can keep the one which makes you feel comfortable.
Not only this, the length of the dress is also customizable. You can either shorten or extend it a bit from just above the knees to anywhere lower or above to transform it into a maxi dress of the 70's.
So the pattern is crafted to give you liberty to select the option which suits you better. Over all it is an A line mini dress with an intriguing vintage feel. The pattern is available in two different sizes.
Vintage style skirt
Having a free sewing pattern for the vintage style skirt was always on my checklist. Until this pattern by peppermintmag appeared in my sewing life.
Although you will find that there are some extra details, which are somewhat synchronous but they make it even more worth it.
The pattern carries knife pleats, and a super cute waist band. Then there are two uniquely styled pockets. Since it is to be worn on your waist, the pattern ensures that you do not spoil the look of the skirt whilst keeping the pockets practical.
You can use a wide range of fabrics to stitch this pattern. Moreover, it is available in ten different sizes so there will not be any chance that you would not find your size.
To sew this you need to be at least an advanced level beginner.
Fifties style Prom dress
Frocks are always my favorites and if you can have one sewn according to a vintage look how good it would be.
If you are yet unable to find a free sewing pattern to create an awe inspiring evening dress try this fifties style prom dress presented by peppermintmag.
The pattern holds impeccable details on the neckline. Whereas the box pleats furnishes it with the signature classic look of the forever.
You can either try the pattern on a medium weight fabric or light material according to your preference. Furthermore, for stitching this pattern the skill level is advanced beginners.
The Maisel dress
This free sewing pattern by Mood is an elegant dress holding a peculiar vintage ambiance. You can add sleeves or adorn the dress as it is. Furthermore this pattern is compatible for a wide range of materials.
You can use a number of fabrics such as satin, sateen or even wolen for winters. The pattern is available in five sizes. Even available in plus size.
Since this vintage pattern is particularly inspired by the formal look, the fabrics are mainly thick. But if you want it to be a casual dress, you can attempt it on linen. Nonetheless lighter materials will be as stunning as thicker ones.
Vintage skirt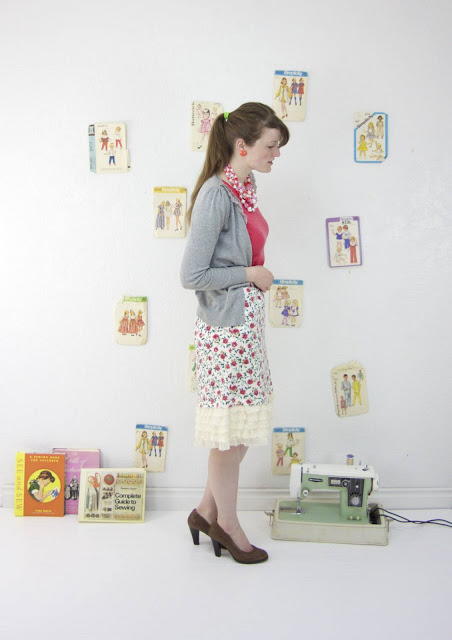 Felling overwhelmed and unable to choose a vintage pattern as your beginner project, just do not feel dejected. This entry is particularly for beginners like you.
Attempt sewing this simple vintage skirt and see how you can stitch it within an hour. For the directions you can get guidance from the video lesson shared with the pattern.
Bette dress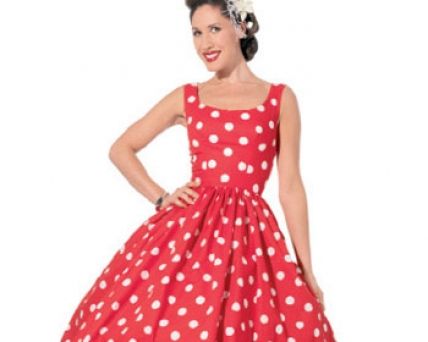 This free sewing pattern for a 50's style bette dress frock is definitely a dress to covet. The nipped in waist attached on the five panel classic skirt brings about one of the best dresses for every wardrobe.
Not only this, the pattern allows you to create some basic additions. For instance you can make the dress extra full which is a must have in vintage dresses. For the purpose sew an underskirt of net fabric.
Additionally, to add details the zip can be attached using a invisible stitching.
The pattern is available in different sizes. And seam allowance is included. Once you have downloaded the pattern you can simply follow the provided instructions on sewing the frock.
Free vintage apron sewing pattern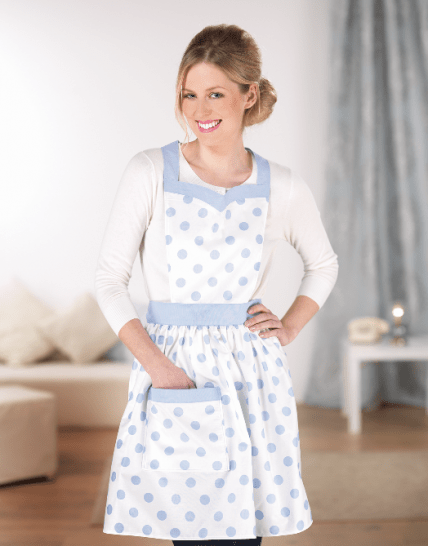 Here is the free sewing pattern for the vintage apron. I have included it onto the list due to its extremely simple construction. You can adjust the neck and waist ties according to your requirements.
The pattern is designed in a way so that everyone can put it on whilst doing chores.
Final thoughts
To get these brilliant vintage sewing patterns you just need to login to the platform and there you are.
Free sewing vintage downloadable patterns are not found everywhere. Whilst I am still on the hunt to find more try these wonderful vintage patterns and share how great it turned out for you.
Just in case, if you happen to find a new one do not forget to tell me. I have also found some plus size free sewing patterns for you.