29 Free Sewing patterns for dog clothes
Here is the list of my favorite free sewing pattern for dog clothes. I know how special your dog is to you, so why not make your relationship extra exclusive. Get it dressed in the clothes you make.
The best yet simple to follow free sewing dog patterns are not found that easily. To help you out, I have invested several hours in collecting these free sewing patterns for dog clothes so that your furry friend can have awesome things to wear according to each occasion.
Together with these free sewing dog patterns you can easily find the steps to construct the clothes as well. Since all of them carry the essential information, pattern fragments, and images.
Furthermore, along the list you will find no sew free sewing pattern for dog clothes as well as those patterns for which you need to be just a beginner. Some of these free sewing dog patterns are designed from recycled clothes.
But before getting into the list, how about going through some preparation tips.
Preparation
Step 1: Registering the Measurements
The foremost step to keep in consideration whilst following a free sewing dog pattern, is your dog' size. Naturally, canines hold varied height and weight just like us. And having the right measurements is as crucial as it is for humans.
So before deciding on anything, just measure your dog at the chest, neck, and back and write it down. And then create the required changes to the pattern to make it the perfect fit for your canine.
Step 2: Fabric selection
Choosing a fabric for dog clothes is also significant. But it does not have to be a costly endeavor. You can simply look for some unused pieces in your wardrobe.
If you can not find anything suitable, get something when your nearby fabric shop announces sale.
Our free sewing pattern for dog clothes
To help you in choosing free sewing dog clothes I have categorized the list along the way. You can find below free coat, dress, shirt, and sweater patterns for dogs.
Free coat patterns
Having a coat for your canine is as crucial as it is for you. Particularly if your furry friend holds a short coat then a dog coat is the most basic thing to keep it warm. Here are the free dog coat patterns I have collected:
Simple Dog coat
This free dog sewing pattern by sewcanshe is basically a thorough tutorial on sewing a warm coat. You can find the method on making the pattern. It is quite easy to make.
Due to extremely cozy materials involved in the construction, your canine is sure to love wearing it every time you put it on him.
Recycled dog coat
If you have managed to find a reusable coat in your wardrobe, then try this free pattern by instructables. It is inspired by using a Carhartt coat but for that matter you can use any coat instead.
The size of the coat is also to be noted, for big dogs xxl coat, whereas for medium sized xl coat would be perfect.
Easy custom dog coat
This pattern by wholefully is another worth trying free dog clothes sewing patterns. You can change the pattern to fit your dog in no time. Moreover, due to its adroit assembly your dog can have it to wear in less than an hour.
Dog tweed coat
This time when you put on a tweed coat let your dog join you as well. With this easy to follow free sewing pattern you can efficiently stitch this voguish tweed coat for your dog. In addition, there are ample guidelines and images to help you further.
Puppy Raincoat
Water resistant coat is all your canine can ask for on a rainy day. Here is the cutest free segin pattern to make a water resistant puppy coat.
This pattern is a part of a tutorial on sewing a puppy raincoat by moodfabrics. Just take your dog's measurements correctly and you can stitch the pattern in an hour at most.
Woolen dog coat
We all love the pea coats in winters, but how amazing it can be if your dog can have one as well. So that the next time you both can wear it down together.
Follow this free dog clothes pattern and make a wonderful pleated woolen coat for your canine.
Free dress patterns
Dresses are indubitably the most important pieces in your dog's clothes. Your canine needs to be dressed in line with every event yet not overly dressed. But just to mention, overly adorned dogs are often the cutest dressed dogs.
Homemade Dog Dress
Keeping in view the ease of construction and the measuring size instructions, the first free sewing pattern on the list of dresses is this Homemade dog dress.
This free sewing dog pattern is sure to bring about a great piece for your canine. You can follow the pattern as delineated or make the alterations accordingly.
To alter the size, the pattern holds directions on how to adjust the size of pattern pieces for your dog.
Recycled shirt dog dress
Learn in this free sewing pattern how to transform your surplus t-shirt or jersey into a lovely shirt for your canine. Addition of the belt and flower buttons on the back, gives this pattern a little fashionable look.
Dog ruffle dress
Ruffle dress is anyways a good choice when it comes to dressing a dam. Pursue this free sewing pattern for dog clothes and give your dog a wonderful dress.
This pattern is especially appropriate for small breed dogs. And is presented in three different sizes.
Recycled cargo pants Dog vest
Follow this free sewing pattern with how to make a dog vest from your unused cargo pants. Due to its brilliant design it can be a backpack for the dog as well.
Dog vest from recycled t-shirt
Although the main thing in this free sewing pattern and tutorial is a t-shirt, yet you would be needing some more items to stitch this t-shirt vest. It is a fabulous clothing piece which requires some additional effort but you must try it on your canine.
Shirt patterns
Shirts are one of the swag styles dog owners prefer for their dogs. So which one would you choose for your furry friend?
Simple Dog shirt
Stitch your dog this simple dog shirt by following this free sewing pattern for dog clothes. You can adjust the pattern according to your dog's measurements so that it would be a nice fit. It is quite simple to stitch, free pattern.
Recycled sweatshirt dog shirt
This five minute job is what you need to get your dog styled in a recycled dog shirt. Get that old sweatshirt on the table, hold scissors and cut the shirt according to the pattern so that it can fit your canine.
Onesie dog shirt
If your baby is a big brother to a puppy you can easily adorn his onesies on your dog. In this pattern there are the steps with images so that you can sew an onesie dog shirt for your fur baby right away.
Free pajamas patterns
Casual pajamas are not only for you but your dog can also flaunt these clothes well. Mentioned below are the free sewing patterns for dog pajamas.
Easy dog pajama
You can sew your canine, pajamas to put on following this free sewing pattern and tutorial. As the wildflowersandwhimsy has managed to provide a useful pattern to create dog clothes for both small or big dogs, you would not need to adjust the pattern yourself. But measuring your dog is still suggested.
Recycled shirt pajamas for small dogs
Carrying a shirt in your hands? You can also mold it to stitch recycled shirt pajamas for your dog. Just follow the instructions and get the free sewing pattern for dog clothes. The tutorial offers step by step images to help you out as well.
Free Dog hoodie patterns
Hoodie is everyone's favorite clothing piece in winters. Let your dog be fortunate enough to have it also.
Simple dog hoodie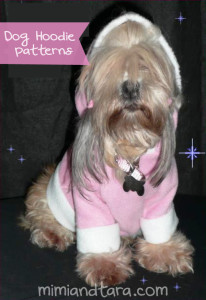 Use the pattern to design a hoodie sweater for your dog this winter. It is a simple to follow pattern thus it will not take long for you to DIY one for your canine's clothes.
But you would need to use your social media account to get the pattern.
Recycled dog sweater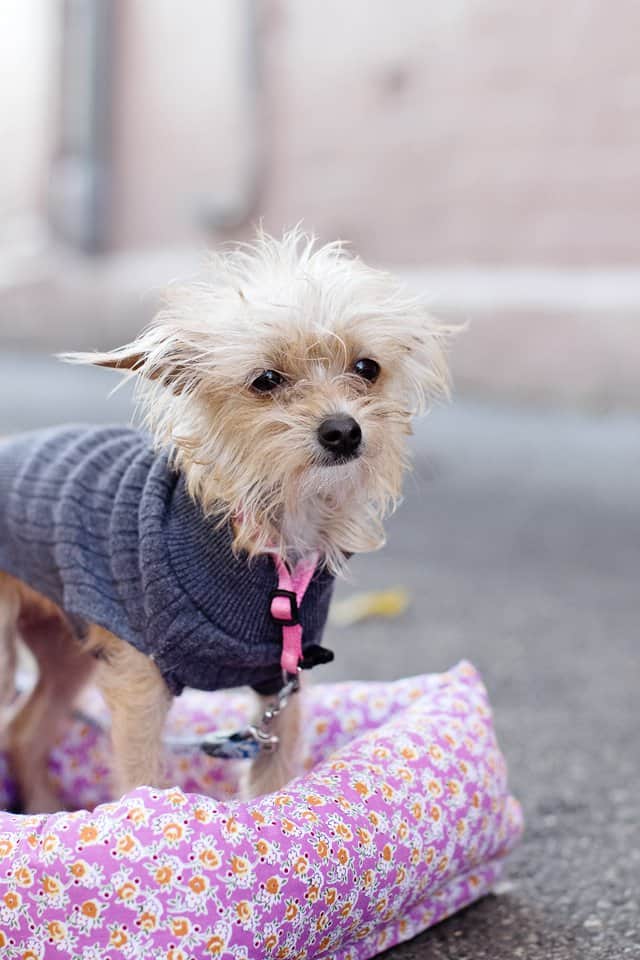 Let your dog adorn itself with the sweater you do not use anymore. Or it could be the sweater you like so that your dog can have a sweater to put on which is also your favorite. You can choose the right size of the free sewing pattern designed by seekatesew from the available three sizes.
Free sewing dog accessory patterns
When you can not get over the obsession for the bandanas your dog also gets to wear as many. But this time around how about stitching it one of these bandanas or making the no sew one.
Ruff
In case you are looking for an extra cute look for your dog, attempt this ruff. Stitch one for your little furry friend following the instructions and see how super it looks.
Simple Dog bandana
Dog collars are great but during summers it might not be a good idea to put them around your dog's neck. Especially if your furry friend has sensitive skin, tying a bandana is probably the best thing you can do. And how nice it would be if you can make it yourself. Follow this pattern to sew a simple dog bandana.
Reversible bandana
This is a cool reversible dog bandana free sewing pattern. You can stitch the bandana following the directions with two different fabrics.
This bandana pattern exhibits velcro strips sewn on to fit.
Dress Shirt Collar- no sew
Another different type of accessory you can put on your dog is this dog shirt collar. All you need is a dress shirt and a pair of scissors.
Bandana collars- no sew
This is a rather stylish free sewing dog pattern which you can use to make a unique accessory. A no sew combination of collar and bandana presented by consumercrafts. Since it is a skillful way to add on to the look for your canine, I am quite surprised how wonderful it comes out to be.
Flannel bandana- no sew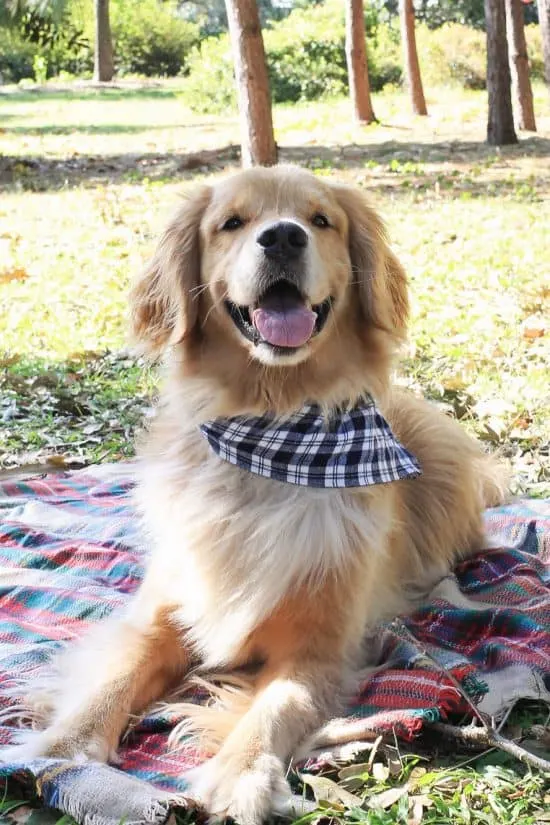 This easy no sew flannel bandana requires nothing but hemming tape and the fabric. You can make this one for your dog in no time.
Halloween costumes patterns
How cute you want your dog to look this Halloween! Stitch it any of the following costume patterns to dress it according to the happenings. I have included patterns for different sizes and one on the list is a no sew pattern.
The Pumpkin
Halloween is all about pumpkins. So this time around have your dog dressed in The pumpkin costume. You can easily find the steps to make the dress as well as the pattern.
The Witch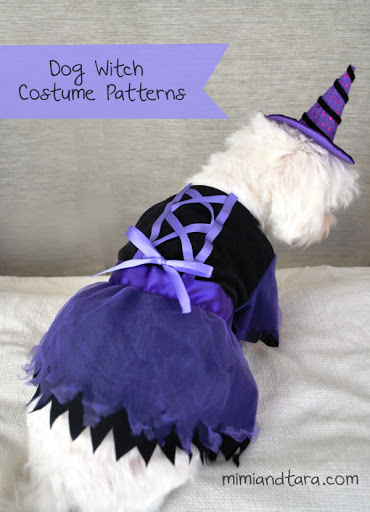 In case you are more into a singular look for your dog at the costume party, try this witch costume free dog sewing pattern. It also displays step by step construction together with images to help the sewists along the way.
The Ladybug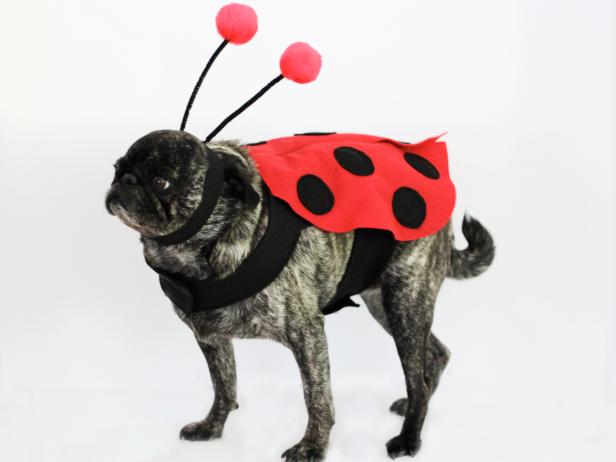 You can also consider this ladybug costume free sewing pattern and tutorial for dog clothes. There is a plethora of imagery and instructions so that you can DIY the costume without messing at any step.
No sew costume
There are many no sew Halloween costume free pattern here. You do not need to thread the sewing machines but to make it you need some other materials. Like craft foam sheets.
Final thoughts
Do not forget to share with me your experience of making clothes from the free sewing patterns turned out for you and your dog.
Sewing clothes for your dog is a vivid start for beginners. After getting a knack of stitching you can simply try free sewing patterns for your own clothes.